What is TIR? What is LSR?

Traumatic Incident Reduction (TIR) is a client-centered approach to guiding clients in addressing and releasing unwanted emotional or behavioural after-effects of traumatic incidents – grief and loss, accidents, injuries, domestic and other forms of violence, and any painful life experience. TIR rapidly reduces post-traumatic stress disorder (PTSD).

Life Stress Reduction (LSR) is a complementary approach to facilitate clients in relieving emotional pain and bringing clarity and comfort to troubling personal issues – difficult relationships, low self-esteem, job/career concerns, financial problems, health issues, anxiety, and fear of the future.

How Do TIR/LSR Differ from Traditional Therapy?

Using specific TIR/LSR techniques a trained facilitator (one who has been taught these techniques by a certified trainer):
• selects and applies the TIR/LSR techniques according to a client's identified issue(s)
• enables the client to successfully confront these issues and discover his/her own
insights and truths
• refrains from diagnosing, evaluating, judging, labelling or advising
• facilitates each session to a successful conclusion rather than by the clock

What Are TIR/LSR Credentials?

Dr. Frank Gerbode, MD (psychiatrist) developed the subject of Applied Metapsychology based on principles established by such renowned psychologists as Ivan Pavlov, Sigmund Freud and Carl Rogers. TIR/LSR are techniques within the subject for helping clients and have been practiced by therapists and facilitators for over 25 years. Read more about Dr. Gerbode's work here.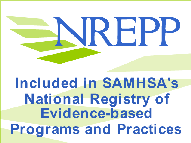 TIR is evidence-based, and listed on SAMHSA's National Registry of Evidence-based Programs and Practices. The Substance Abuse and Mental Health Services Administration (SAMHSA) is an agency of the U.S. federal government.

TIR/LSR training workshops are recognized for continuing education credit in Canada by the Canadian Counselling and Psychotherapy Association (CCPA), the Canadian Professional Counsellors Association (CPCA), the Ontario Association of Consultants, Counsellors, Psychometrists and Psychotherapists (OACCPP),and the Canadian Addiction Counsellors Certification Federation (CACCF). For other recognizing professional associations in the U.S. see here.

The training, certifications, research and development of the subject are managed by Applied Metapsychology International (AMI). You can read more about AMI here.