Applied Metapsychology Training Workshops

For a professional who wants to be more effective with clients, the path of Applied Metapsychology training is well defined. The first workshop, Traumatic Incident Reduction Workshop (TIRW), introduces students to a different paradigm. The philosophical underpinnings to this subject are quite simple. With those understood, the workshop takes students into a skill development module. The Communication Exercises explain and then practice a unique style of communication for sessions. And yet it is this simple approach that creates the safety required for a client to do this work and venture into territory that has never been completely (or ever) explored. With this foundation Margaret teaches students the first of the TIR techniques. These are taught, observed on video and modelled.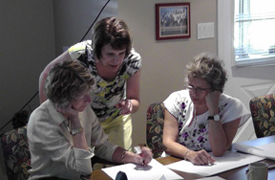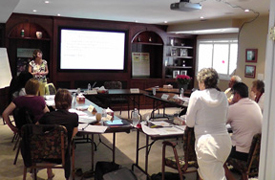 Eventually students are paired up and given private rooms where one will be the facilitator and deliver the technique to the other student who has chosen his/her own real life incident or issue. These are real (co-facilitation) sessions; they are not role playing. It is only in a real session that students learn to navigate through a real client's issue and deliver the technique. It is in a real session that the student partner (the client) experiences what it feels like to have "charge" lift off, and possibly have an insight. Our training workshop classes are limited to 10 students in order to effectively supervise the 5 sessions taking place concurrently. Testimonials from students tell us that nothing is more compelling than giving and receiving these techniques in a real session.

Following TIRW
The two advanced workshops may be taken in either order after the TIRW.
The TIR Expanded Applications Workshop (TIREAW) provides the student with more opportunities to deliver and receive sessions (co-facilitation). Many additional possibilities are introduced for using the basic techniques in expanded ways. In addition, a significant number of new techniques are introduced. All of these are used in co-facilitation sessions supervised and guided by Margaret.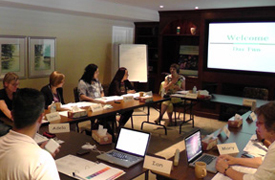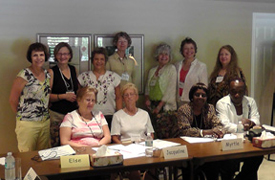 The Life Stress Reduction and & Case Planning Workshop (LSRCPW) adds another array of techniques to those previously learned. All the techniques build upon the foundations learned in the first workshop. In addition, valuable case planning exercises are done as a group and individually.

Continuing Education Recognition
These three training workshops (above) are recognized for continuing education credit in Canada by the Canadian Counselling and Psychotherapy Association (CCPA), the Canadian Professional Counsellors Association (CPCA), the Ontario Association of Consultants, Counsellors, Psychometrists and Psychotherapists (OACCPP), and the Canadian Addiction Counsellors Certification Federation (CACCF). For other recognizing professional associations in the U.S. click here.
Becoming a Skilled, Competent and Certified Facilitator
Following each of the three workshops, I offer Internships to those students who wish to further develop their abilities as TIR and LSR facilitators. The internship builds confidence and guides interns through to successful certification by AMI.